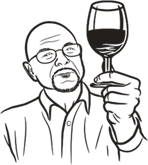 Lincoln Henderson: 
REVERED BOURBON CONVENTIONALIST 
and RENEGADE BOURBON PROVOCATEUR
Scotch has been finished in fortified wine barrels like Sherry or Port for generations. So we wondered, why isn't anyone really doing this seriously with bourbon? The finishing process can really enhance the whiskey with a subtle sweetness and complex flavors.
As we tasted our bourbon, a Port finish really seemed like it would fit our bourbon's flavor profile perfectly. It added just the right layer of richness to our whiskey. While it took us some trial and error to figure out the ideal aging window for Angel's Envy, we knew that we had a winner once we found it.