Invite Angel's Envy to Valentine's Day
A Dinner and Cocktail Pairing Guide
Love it or leave it, Valentine's Day is coming. If you've got a significant other, this raises the all-important question: "What am I going to do this year?" Flowers and chocolates are nice, but that's been done. We recommend putting them all together into a cohesive presentation—a dinner, for instance. Also, and we can't stress this enough, DO NOT forget to serve a little Angel's Envy. No matter how good of a cook you are, dinner can always go wrong. Whiskey never does. We've put together a three course dinner with Angel's Envy cocktail pairings for you, and if you pull it off, you're going to have a really hard time topping it next year. If you're single, treat yourself to a nice dinner with some delicious drinks. You deserve it.
Pacing out a dinner with multiple courses can be tricky, so we'll talk you through our three basic courses: salad, steak and chocolate. If you insist on buying flowers, just put them on the middle of the table or something.
Start with the End
The dessert is a must have, but this will be the first thing you're going to want to tackle so you can get it in the oven before starting on the salad and steak.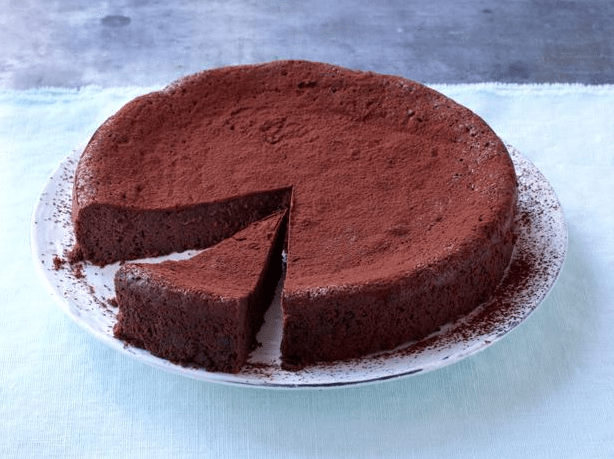 Chocolate Torte
Ingredients:
• 12 Tbsp unsalted butter or margarine, cut into small pieces, additional for pan
• 12 oz. bittersweet chocolate, chopped
• 6 large eggs
• ½ cup sugar
• Pinch of Kosher salt
• Unsweetened cocoa powder, for dusting
Instructions:
Preheat oven to 350F. Lightly butter 9-inch springform pan. Combine chocolate and butter in a heatproof bowl. Place the bowl over a saucepan of simmering water (do not touch the bowl to the water) and stir until melted and combined. Remove the bowl from the saucepan and let cool slightly.
Combine eggs, sugar and salt in a large bowl. Beat with mixer on medium-high until pale and thick, 5 to 8 minutes.
Gently fold half of melted chocolate mixture into the egg mixture until just combined, the gently fold in the rest. Pour batter into prepared pan and bake until top is no longer shiny, barely jiggles, and toothpick into the center comes out with only a few crumbs, 35 to 45 minutes. Transfer to rack and let cool completely in pan. Remove springform ring and transfer to platter and dust with cocoa powder before serving.
For the cocktail pairing, keep things sweet with our Vanilla Cream Punch.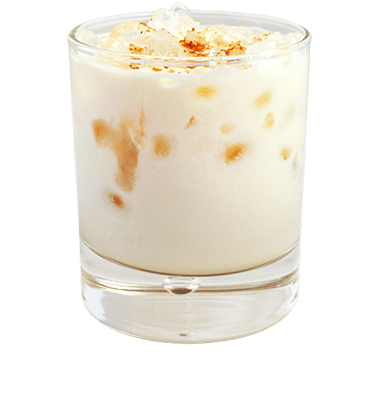 From Andrew Abrahamson of Seven Grand, Los Angeles CA
Ingredients:
• 1¾ oz. Angel's Envy
• 3½ oz. whole milk
• 1 oz. simple syrup
• 2 droppers Bitter Tears Lolita Bitters
Instructions:
Dry shake all ingredients hard. Pour into a double old-fashioned glass filled with shaved ice. Shake fresh nutmeg on top and serve with cocktail straws.
While the torte is baking in the oven, you can start on the salad and the steak rub. First up: the salad.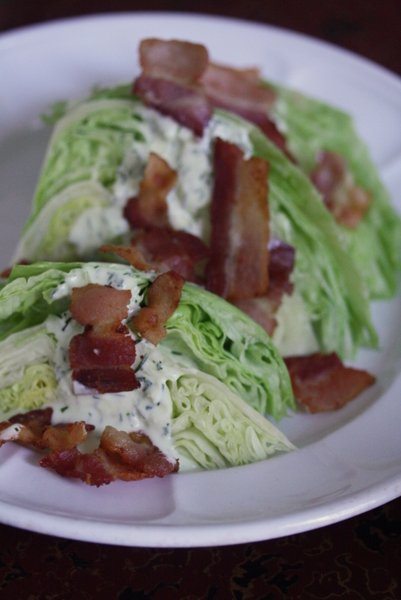 Wedge Salad:
Ingredients:
• 6 strips bacon
• 1 head iceberg lettuce, outer leaves removed and cut into 4 wedges (you only really need two, but lettuce is cheap)
• 1 cup creamy dill dressing
• Sea salt
Instructions:
In a large non-stick skillet, cook the bacon strips in an even layer over high heat until very brown and crispy on both sides, about 5 to 7 minutes. Remove to plate lined with paper towels to drain. When cool enough, crumble the bacon into 1/2-inch bits.
Arrange the wedges on a platter, drizzle the dressing over them and top with bacon bits. Sprinkle with a touch of sea salt and refrigerate until ready to serve.
We recommend something light, crisp and a little tart with the wedge salad.
Calling All Angels
From Keli Rivers of Hard Water San Francisco CA
Ingredients:
• 2 oz. Angel's Envy
• ½ oz. sweet ginger puree
• ¼ oz. lemon juice
Instructions:
Shake. Top with ginger beer.
We're not going to tell you how to cook a steak. If you have a grill, that's great. Some people like to pan sear or cook them in ovens too. There are a lot of great ways to cook a steak, and everyone has a preferred level of doneness. We do recommend a smaller, better cut though, like a 6 oz. filet. And we definitely recommend cooking it dusted with this rub.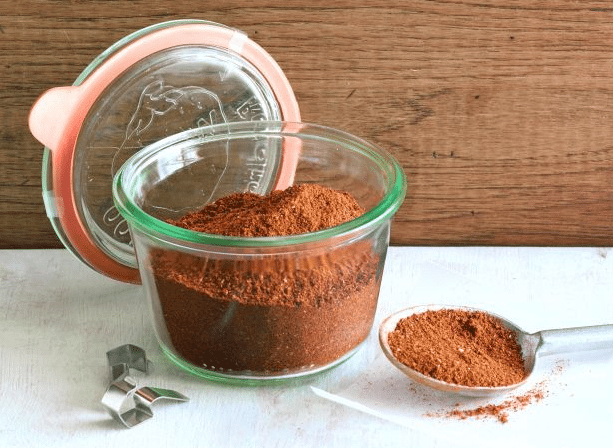 Steak Rub
Ingredients:
• 1 cup ancho chili powder
• 1/3 cup Spanish paprika
• 3 Tbsp ground, dried oregano
• 3 Tbsp ground coriander
• 3 Tbsp dry mustard
• 1 Tbsp ground cumin
• 1 Tbsp Kosher salt
• 1 Tbsp ground black pepper
• 2 tsp chile de arbol (optional)
Instructions:
Whisk together all ingredients. Sprinkle on steak to your preferences. Story rub in a container with a tight fitting lid in a cool, dark place.
For steak cocktail pairing, keep things classic with a Manhattan.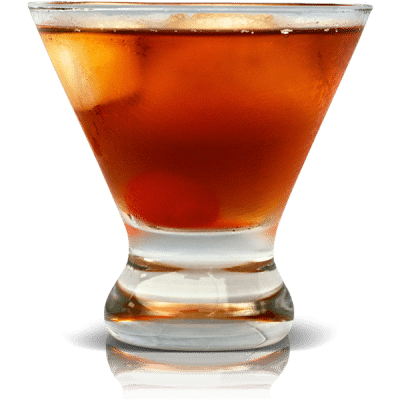 Ingredients:
• 1 ½ oz. Angel's Envy
• ½ oz. sweet vermouth
• 1 dash Angostura Bitters
• Bing cherry garnish
Instructions:
Chill over ice, strain into glass and garnish.