Who Made it First? Cocktail History with Angel's Envy
So what do most classic cocktails have in common? If there's one thing that cocktail origins usually share, it's debate—endless debate about the specific creator of each drink, with a wealth of colorful (occasionally wrong) historical anecdotes. Sorry, the Manhattan wasn't created by Winston Churchill's mother—no one really knows who came up with that one.
It's worth mentioning that interest in cocktail history is growing, and new documents and revelations are still being uncovered in dusty attics and basements. But these three, featured classic cocktails have fairly well established histories. So let's take a look back and find out where a few of our favorite recipes came from.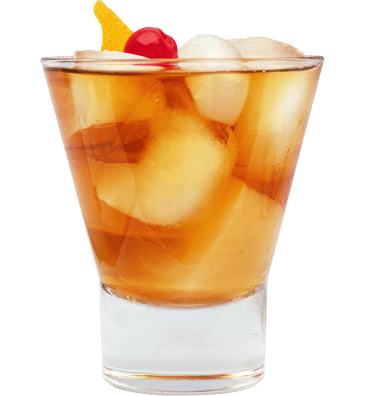 The Old Fashioned
While drinks had been referred to before as "old fashioned," the history behind the first recorded whiskey cocktail called the Old Fashioned is a little more straightforward. The important thing to remember about the Old Fashioned is that 'Old' is a relative term. Like, relative to the late 1800s old. The Old Fashioned is old enough that it was once considered a medicinal tonic. But it was always an alternative for people who didn't enjoy their spirits straight.
While variations of the recipe made with different spirits are considerably older, the whiskey version of the Old Fashioned is often credited to a bartender at Louisville's famous Pendennis Club. It was allegedly created in 1891 to honor noted distiller James E. Pepper, who was said to have introduced the recipe to New York City's Waldorf-Astoria Hotel bar. From there, its popularity began to spread.
Shortly after Prohibition, a man calling himself "Old Timer" wrote a letter to the editor at The Times. He made an impassioned plea to the bartenders of New York, asking them to embrace and honor the traditional recipe of the Old Fashioned. Why is this relevant? Because Old Fashioned recipes have varied over the generations. Some people add cherries, and Wisconsinites often make theirs with brandy. So to honor the spirit of this anonymous post-prohibition traditionalist, we'll present a more traditional Old Fashioned recipe below.
Recipe:
2 oz. ANGEL'S ENVY
1 dash Angostura bitters
1 tsp. mineral water
1 tsp. sugar (or one sugar cube)
Tools: mixing glass, strainer
Glass: old-fashioned glass
Garnish: twist of lemon
Instructions:
Pour the bitters, sugar and water into a mixing glass half-filled with cracked ice. Stir well until the sugar is dissolved. Strain over cracked iced in an old-fashioned glass. Add ANGEL'S ENVY and stir well. Garnish with a twist of lemon.
The Mint Julep
Like so many classic cocktails, the Mint Julep's history is a vast series of smaller tributaries flowing together into the mighty river of whiskey that we know today. The term 'Julep' most likely originated with the Arabic word 'Golâb,' which meant 'rose water.' That word in turn gradually changed into 'julab,' which became associated with sweet, medicinal drinks. Eventually though, everyone settled on 'julep,' and variations of this drink spread across Europe. Naturally enough, alcohol began to find its way into the recipes.
By the 1800s, the julep had crossed the Atlantic and was planting deep roots throughout the American south, particularly in Kentucky. Paired with local mint leaves, mint juleps were frequently made with a variety of spirits before being gradually eclipsed by bourbon, due in no small part bourbon's relatively lower cost at the time, and the eventual influence of the Kentucky Derby.
While Churchill Downs had been serving the mint julep since the mid 1870s, it wasn't until 1938 that the Kentucky Derby became widely associated with its now signature cocktail. For accuracy's sake, it's worth noting that the current official mint julep of the Kentucky Derby is made with a Kentucky whiskey, and not actual bourbon. But everywhere else, bourbon is widely held as the spirit of choice.
Recipe:
2 ½ oz. ANGEL'S ENVY Bourbon Finished in Port Wine Barrels
Leaves from 4 to 5 mint sprigs
2 sugar cubes (or ½ oz. simple syrup)
Tools: muddler
Glass: chilled julep cup, Collins glass or double old-fashioned glass
Garnish: mint sprig
Instructions:
Place the sugar or syrup with the mint leaves in the bottom of the chilled cup. Muddle well to release the mint's essence and dissolve the syrup. Add ANGEL'S ENVY. Fill the glass with crushed ice and stir until the glass becomes frosty.
Boulevardier
The Boulevardier was once the toast of a golden age—1920s Paris. While credit for the cocktail is often given to Harry McElhone, the proprietor of Harry's New York Bar in Paris, he names Edward Erskine Gwynne as the original creator.
Edward Gwynne was a wealthy young American drawn to Paris by the lure of expatriate luminaries and wild nightlife. He published a literary magazine called Boulevardier, which featured a full back-page section called "Barflies and Cocktails." His literary contributions may be largely lost to time, but you can still drink to Edward's legacy with his unforgettable cocktail.
Some might dismiss this drink as a simple variation of the Negroni, but it's an unusually versatile cocktail. The Boulevardier is perfect for the summer months, or for remembering the sun during cold, dark winters. But no matter the season, it's exceedingly drinkable and well worth sampling for yourself.
Recipe:
1 ½ oz. ANGEL'S ENVY Bourbon Finished in Port Wine Barrels
1 oz. Campari
1 oz. sweet vermouth
Tools: mixing glass, strainer
Glass: cocktail glass
Garnish: orange slice, lemon twist or cherry
Instructions:
Stir all ingredients long and well with ice in a mixing glass. Strain into a cocktail glass. Garnish with either an orange slice, lemon twist or cherry.