Meet the Team Behind the Angel's Envy Distillery Experience
At our new distillery, we've been distilling whiskey for about a month now. That was the first order of business. But now we're hard at work ensuring that our visitors' experience will be unlike any other of its kind. From tours to private events, we want you to walk away feeling like family, and our family knows how to make damn good whiskey. Our new brand home team is working to make that happen.
A Sense of Home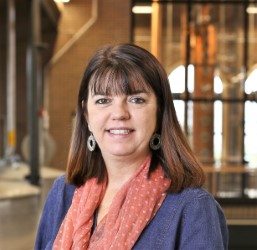 Dee Ford is our Brand Home Manager. She previously ran the Woodford Reserve Tour Experience, and brings a considerable amount of passion to everything she does. "The opportunity to build a brand from the ground up was too exciting to pass up. To have the chance to build an experience from the very beginning was an exciting challenge. And also, this is my hometown. I was born and raised here. I'm very proud to be in Louisville, and I'm especially thrilled to have the opportunity to open a fully-working distillery that encompasses an entire city block."
"I'm excited to open the doors and let people see an authentic working distillery from grain to bottle in downtown Louisville. In the past, you had to leave the city and head outside of Louisville, and now you don't have to. I'm also excited by the small group touring model of 10 guests or fewer to immerse themselves with the brand and ask questions. It should be a much more intimate experience. I also love that this building is such a mix of old and new. There are so many historic pieces to this building, yet we've repurposed it in a way that's very true to Louisville."
A Space for All Occasions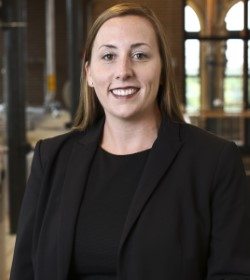 Deja Lawson is Angel's Envy's new Distillery Brand Home Sales, Events and Marketing Manager. She has an extensive background in event planning, and quite simply, she gets things done. On what Angel's Envy has to offer, she said, "I think there's a perception of what bourbon is, and the industry is seen as glamorous, but there's a lot of work and science behind it, and we want to help people see it. It's not just a show, this is your opportunity to actually learn about it first-hand without just seeing it on display. We want to make it approachable for everyone who's interested in learning about whiskey."
On future events, she said, "We are not just a boxed room that you rent and dress up. We're already dressed up, and we get an opportunity to engage guests with something a little better than space—whiskey is a wonderful thing to gather around, and we're creating a totally unique experience for Louisville."
The new Angel's Envy Distillery will be open to the public Saturday, November 19th, and will offer space for private events as well. Tours are by reservation only, so be sure to book yours online through the website or just follow this link.